Selborne Road Medical Centre
The Practice will be closed on Tuesday 14th June 2022 for Staff Training.
If you have have a medical emergency please phone 999.
If you have an urgent medical condition that can not wait until the Practice re-opens please dial 111.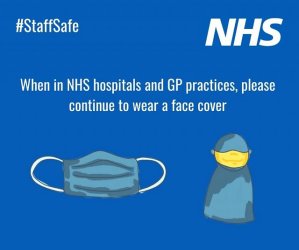 Wearing Face Coverings in GP Practices
Recording covid vaccinations administered overseas
If you have received one of the four MHRA approved COVID-19 vaccinations (AstraZeneca, Janssen, Moderna or Pfizer) outside the UK they can now be recorded on the National Immunisation Management Service (NIMS) database. To do this please follow the link https://www.nhs.uk/conditions/coronavirus-covid-19/coronavirus-vaccination/tell-nhs-about-coronavirus-vaccinations-abroad/
This will then allow you to book your booster vaccination and will show on your medical records.
The national data opt-out is a service that allows patients to opt out of their confidential patient information being used for research and planning.
Click on the link below for more information and how to opt-out.
From 17 May 2021, people in England who have been fully vaccinated against COVID-19 can demonstrate their vaccination status for international travel. A full course is currently two doses of any approved vaccine. Vaccine status will be available from:
Coronavirus (COVID-19)
The NHS and Public Health England (PHE) are extremely well prepared for outbreaks of new infectious diseases. The NHS has put in place measures to ensure the safety of all patients and NHS staff while also ensuring services are available to the public as normal.
NHS 111 has an online coronavirus service that can tell you if you need medical help and advise you what to do.
As per Government and NHS guidance
If you have a new and continuous cough
And /Or
A fever
Please do not enter the surgery but return home and self-isolate for seven days.
This virus is most infectious in the first five days.
This is regardless of any travel history or known contact.
If you are unwell with your cough, please phone 111 for further advice.
There is no longer any community testing for Coronavirus, so please do not ask us to arrange it for you; only hospitalised patients are being tested.
Further information and details of how to self-isolate are available on nhs.uk.
NEW PHYSIOTHERAPY ASSESSMENT SERVICE AVAILABLE
Patients will be seen here to assess their condition only this is not an appointment for treatment.
You can book directly without seeing a Gp with any new or longstanding musculoskeletal condition or pain associated with joint, muscle, nerve, back pain, sciatica or arthritis.
This is only available to patients who are not currently under the MSK physiotherapy services.
Speak to reception to book an appointment.
Do I Need A&E?
Surgery Times
| | | |
| --- | --- | --- |
| Monday | | 8.30 - 18.00 |
| Tuesday | | 8.30 - 18.00 |
| Wednesday | | 7.30 - 18.00 |
| Thursday | | 8.30 - 15.00 |
| Friday | | 7.15 - 18.00 |
Ringing outside these times will connect you to the GP Collaborative who will be able to help you in an emergency or you can ring the 111 service.